Whew. Campers on their way home, tired and happy. And, I hope, with some improved skills. Overall it was a great group, solid skill-wise and willing to work hard. I hope the players enjoyed it as much as I did.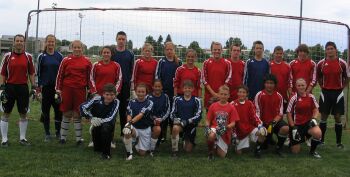 During the last morning session there was one tense moment where there was a collision on a breakaway. Nothing intentional, but with players as tired as they were tempers got short. We took a quick breath and moved on, but it raised the point that if you want to get better, you have to train at full intensity... and if you go all out, there is the possibility of injury.
It can be difficult to get players to put as much effort into practice as into the real game. But if you don't provide your teammates the best opposition possible, how will anyone get any better? I once heard that Arsenal in England trains so intensely that players feel the game on the weekend is easier than practice! You need to be careful, but to help your teammates get better, you need the same focus, intensity and aggression in training as you do in the match.
We always end camp with a Keeper Wars session. Here are a few variations we've used:
Vanilla Keeper Wars, 1v1 for one or two minute matches.
Doubles, with two keepers in each goal and alternating serves. Make sure keepers are staggered one in front and one in back to prevent collisions.
Mini Keeper Wars, using poles or corner flags to make goals about 10-12 yards apart and only allowing underhand thrown serves.
Team Keeper Wars, you stay in goal until you either get scored on or miss the frame; then you get out of goal and your next teammate steps in.
4-Way, with two pairs of goals forming a square. You only compete against the keeper in the goal opposite you, but any rebounds into the area can be finished by any keeper in any goal (first-time shot). It gets crazy with balls flying everywhere!
Use a few mini-balls mixed in as the "money ball" which scores two points.

Labels: Psychology, Training