Goalkeeping Tips, Tidbits and Random Thoughts
An athlete talking to themsleves during competition is hardly a new phenomenon.... The talk does not have to be vocal. By merely thinking you are talking to yourself and sending a message.
-- Tony DiCicco, Goalkeeper Soccer Training Manual
If you have a question, comment or rebuttal you'd like to see addressed here, send me email. I will post your mail to the blog at my discretion unless you specify otherwise.
While many different types of players can become successful goalkeepers, I suppose
there are some physical limitations that might make it difficult to play in goal
:
In the Bleachers
by Steve Moore (from
www.ucomics.com
)
7/5/05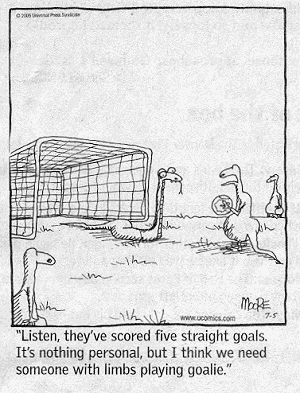 Labels: Miscellaneous
"If defenders had even half the brainpower that we have, they would be playing in the midfield."
A point-counterpoint discussion at ESPN Soccernet between Kansas City defender Jimmy Conrad and MLS goalkeepers:
More important: Defender or Keeper?
.
Labels: Goalkeeping News and Analysis