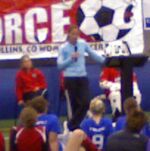 Last week I got a chance to hear Christie Rampone, the captain for the USA women's national team, speak at a tournament. One question she was asked was how hard it was to make it to the highest level of the sport.
Part of her answer was unexpected, but perhaps not surprising. Rampone tore her ACL in 2001 playing in the WUSA. She said one thing that really made her realize how hard she could push herself was doing the rehabilitation to come back from the injury.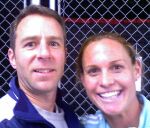 Unexpected, because you don't expect someone to say an injury made them better. But not surprising, because if you've ever had to do it, you know that rehabbing a bad injury is far harder than anything you've ever done on the field.
I think the reason rehab really makes you push yourself is because you
know
where you have to get back to. You know the standard, and don't—can't— stop until you get there. If you are just training, you don't always have a good idea of how high you can go. And many set that invisible bar too low. If you get hurt, the bar is all too visible.
Are you really pushing yourself to be as good as you can, as a coach or as a player?
Labels: Psychology
David James laments the lack of top-flight English goalkeepers plying their trade in England in his
Guardian column
. He points out a couple of reasons why, reasons that prompted me to create JB Goalkeeping in the first place:
For a start there has always been a tendency for goalkeeping to be overlooked. It is often the last thing on anyone's list. I started my coaching badges two weeks ago, and I have to say it was a fair flick through to the back of the manual before there was anything on goalkeeping. I know there is a separate qualification for goalkeeping coaches but it seems indicative, to me, of a prevailing attitude toward the role.

The frustrating paradox is that coaching goalkeeping actually requires more resources than outfield positions. Unlike David Beckham and Wayne Rooney, who can practise at targets for hours on their own, for a keeper to practise anything other than kicking or throwing he needs other players. And not just any old player, either. To practise saving free-kicks you want a great free-kick taker. It is no coincidence that my best practise session comes at the end of the week when the rest of the team have a shooting competition. That one session always gets me in tune for a match
Over the course of a season of weekly goalkeeper sessions—12 or 13 of them—I would just be able to get through all the topics I felt needed to be covered, without much repetition. James is right that the resources needed for effective keeper training and development are significant. So rather than find the time and effort to put into it, it often simply gets ignored. It's a shame.
Labels: Goalkeeping News and Analysis