I found a great picture over at
The Guardian
of David James making a diving save with excellent form: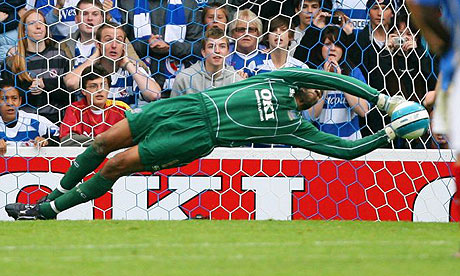 He's at full stretch, but his head, eyes and hands are aligned, he's focused on the ball with two hands securely on it.
Our goal as keepers is to make every save look like the easiest save possible. The easiest save is one that is right in front of us. So a big part of why we dive is to get our body behind the ball as much as possible. If you plucked a keeper with good form out of mid-air, he should look like he is saving an easy ball in front of him: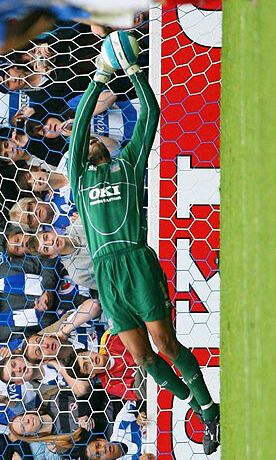 The only difference is that he is horizontal and several feet off the ground.
Labels: Diving
Seth Godin asks:
Better?
"Are you better at what you do than you were a month or two ago?
A lot better?
How did you get better? What did you read or try? Did you fail at something and learn from it?
If you got better faster, would that be a good thing? How could you make that happen?"
Labels: Psychology
Goalkeeper communication with the defense
needs to be specific
. "Mark up!" is one of the things I hate to hear most... unless you have a defender named Mark on your team who needs to move "up"! Otherwise, it is meaningless. Everyone typically thinks somebody
else
has got it covered.
The most common thing I probably say to defenders when in net is, "Step to the ball!" They are sometimes unsure, and it seems I can see the shot coming well before anyone else. Shutting down the shot
before
it happens is critical.
After that, I tell defenders about free players... to their right, left, behind them, outside of them or in the middle, etc. If players are marked
before
the ball arrives, again my job is made that much easier.
There are a few things that goalkeepers might not think to say, however. Another frequent bit of info I tell my defense, especially central defenders, is "Stay there!" They will often start to drift towards the ball when it's on the flanks, exposing dangerous space in the center of the field. Often, they don't need to drift out at all, but will be fine just holding the center right where they are.
I will also try to give positive feedback. If a defender is in good position but has a lot going on behind them, I might just tell them, "You're okay!" And of course, there kudos for great defensive stops, but also a pat on the back for solid, organized defending if I've not had to move them around much at all.
Labels: Tactics